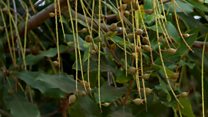 Video
Protecting South Africa's macadamia nut crop
Macadamia nut farming is increasingly popular across the developing world and especially in Africa. Kenya and Malawi have sizeable plantations of the valuable nut and South Africa was the world's largest producer in 2015.
But the 2016 crop may be much lower because of the drought that continues to grip much of southern Africa.
Some analysts say that demand for the nut from China and the US remains strong, which will means prices will rise. But others say the fall in production threatens jobs.
The BBC's Vumani Mkhize travelled to the Mpumalanga region in eastern South Africa to find out more for Africa Business Report.
Go to next video: Five tips to succeed in farming