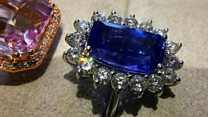 Video
My Shop: 77 Diamonds and the impact of Christmas
Set up a decade ago, 77 Diamonds has established itself as a very successful online shop for diamonds.
However, it found that it still needed a physical premises in London to satisfy some customers. Who are these customers and why does the company do around a third of its trade in the run-up to Christmas?
This video is part of a series from the BBC Business Unit called My Shop. The series focuses on distinctive, independent shops and is filmed on a smartphone. To suggest a shop email us. For the latest updates about the series follow video journalist Dougal Shaw on Twitter or Facebook.
Go to next video: '6p a minute' cafe thrives outside London