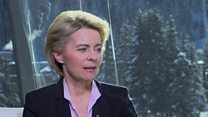 Video
UK tax haven threats not smart - German defence minister
German defence minister Ursula von der Leyen has told BBC Hardtalk it "is not smart to go into a tax dumping race" following the UK's decision to leave the European Union.
When asked about the Chancellor Philip Hammond's remarks that Britain may change its "economic model" if it is locked out of the single market after Brexit, Ms von der Leyen said that "to utter threats" before all parties are at the negotiating table was not helpful.
Speaking to Zeinab Badawi at the World Economic Forum in Davos, she said: "The whole picture will not be complete if we do not look at the final contract we have together.
"I don't think it is smart to just pick the one or other topic, without even having sat down at the negotiating table and to utter threats," she added.
In a speech earlier this month UK Prime Minster Theresa May said the UK "cannot possibly" remain within the European single market, as staying in it would mean "not leaving the EU at all".
Watch the full interview on BBCiPlayer (UK only)
Go to next video: 'Sense of humour' needed in Brexit talks