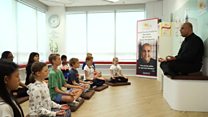 Video
Kids and meditation - it's a business, of course
Rising stress levels for children in Asia are being blamed for all sorts of issues - from headaches to anxiety attacks and, in some cases, suicide.
From this, there's been a rise in demand for classes that teach kids meditation and mindfulness, among other relaxation techniques.
Proponents say it helps children better cope with the digital age in which we live. But are some businesses just capitalising on this and making questionable amounts of money out of worried parents with troubled kids?
We took a closer look for our series, The Business of Kids.
Edited by Mohammad Fahmi.
Go to next video: The business of Asia's child beauty pageants