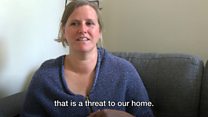 Video
London's housing crisis pricing families out of London
Tracy Strassburg - a mother of two boys from Nunhead in south-east London - says she is being priced our of London.
Despite working as a yoga teacher and receiving £950 a month in housing benefit she struggles to make the £1400 a month she needs to pay for a two bed flat.
She is left borrowing up to £450 a month from her mother and running up debts on credit cards.
Her eldest son, who will turn eight in November, has lived in six different addresses.
"It's not a good way to live" she told the BBC, "it's not good for the kids."
Go to next video: Brand joins London housing protest