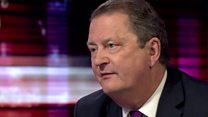 Video
SFO can't 'get evidence' from Russia on money laundering
The UK's Serious Fraud Office (SFO) has not been able to get evidence from Russia in order to tackle money laundering crimes in the UK, the organisation's outgoing head has said.
Director David Green told BBC Hardtalk's Stephen Sackur that "in order to prove money laundering you need to prove in law a predicate offence… the offence which generated the money".
"Very rarely does the money come straight from Russia to this country," he added.
Mr Green also said that China "is not as co-operative as one might expect".
You can see the Hardtalk interview in full on BBC World News and the BBC News Channel on Wednesday 11 April and after on BBC iPlayer (UK only).