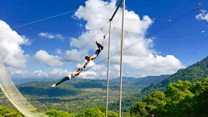 Video
The man who quit his job to teach trapeze in the jungle
Jonathon Conant had never tried the flying trapeze until he turned 40. He has now dedicated his life to it.
He co-founded the largest trapeze school in the world, where he worked with Sarah Jessica Parker, Hugh Jackman and Pink.
But then he took another leap into the unknown, selling his company and moving to the jungle in Costa Rica.
Now he spends his days swinging and somersaulting above the trees, and teaching others how to take the plunge.
Video journalist: Hannah Gelbart.
Drone footage and additional pictures courtesy of Eric James Walsh.
Go to next video: How do you learn trapeze if you're blind?