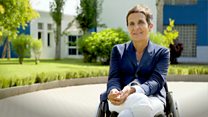 Video
'People die because they don't have proper healthcare'
After becoming paraplegic following a bike accident, Amina Slaoui built Morocco's first disability rehabilitation centre providing care for those who can't afford to pay for it themselves.
"At the beginning everybody would laugh, saying you're crazy, you're a bunch of crippled people, you have no money, and you think you're going to build a rehabilitation centre? And we said yes," says Amina.
It is now one of the biggest in Africa and is renowned for offering free treatment and support to those who need it.
This BBC series was produced with funding from Bill & Melinda Gates Foundation
Go to next video: Chowberry app prevents food waste in Nigeria