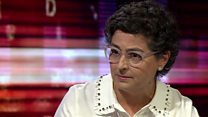 Video
Why the US-China trade war might "not be that bad"
The current trade war between the United States and China might be "not that bad," the head of the International Trade Centre (ITC), Arancha Gonzalez has said.
There is a huge geostrategic rivalry between the two countries and the biggest expression of this rivalry is international trade, she explained.
"In trade this fight might be a bit more rational than in other areas, like military, like diplomatic," she told BBC Hardtalk's Zeinab Badawi.
The ITC is a joint agency of the World Trade Organisation and the United Nations.
You can see the Hardtalk interview in full on BBC iPlayer (UK only).
The programme was broadcast on Tuesday 28 August 2018.