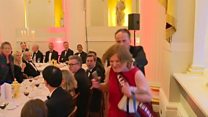 Video
Climate protesters v the City?
Climate change protesters have disrupted the beginning of Chancellor Philip Hammond's Mansion House Speech.
The protesters were removed from the City of London event for the financial services industry, and Mr Hammond was able to continue a few minutes later.
Greenpeace has accused Foreign Office minister Mark Field of assault, after he pushed a female activist out of the black-tie event.
Mr Field claimed he reacted "instinctively" and has referred himself to the Cabinet Office for an investigation.
He also apologised to the woman for "grabbing her" - but said he was worried she may have been armed.
This video has been optimised for mobile viewing on the BBC News app. The BBC News app is available from the Apple App Store for iPhone and Google Play Store for Android.