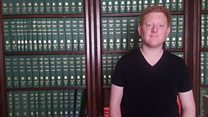 Video
The only MP who wears a T-shirt in Parliament
Meet Jared O'Mara. He's the MP who knocked former Deputy Prime Minister Nick Clegg off his Sheffield Hallam seat in the recent general election.
It was one of the most-talked about results from the early hours of 9 June and Mr O'Mara himself didn't expect to win.
The 35-year-old, who was born and bred in Sheffield, has cerebral palsy. A former activist, he knows his disability politics well and proudly says his impairment is part of him and it has helped create the man he is.
With Damon Rose and Beth Rose.
Email ouch@bbc.co.uk tweet @bbcouch or find us on Facebook. Tell us what you think, and tell us your story.
Subscribe to Ouch as a weekly podcast. You can also subscribe and review us on Apple Podcasts on your device, and other podcast services.