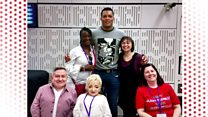 Video
Growing up with disabled parents
Marvel Opara gave birth to her son - heavyweight boxer Joe Joyce - almost 30 years ago. At the time she was a teenager with a visual impairment.
Together they have faced many challenges - and as a child, Joe was on the receiving end of playground taunts about his "spastic" mum.
Joe has gone on to win a silver medal at the 2016 Rio Olympics - and Marvel is about to climb Kilimanjaro.
In this edition, Joe and Marvel discuss disabled parenting with Glaswegian comedian Ray Bradshaw - a child of deaf adults, known as a CODA - ahead of his Edinburgh Fringe show.
Also, Samantha Renke discusses accessible housing in the wake of the Grenfell Tower disaster and Naomi Lawson-Jacobs tells us about Autistic Pride Day.
Presented by Simon Minty and Kate Monaghan. Produced by Emma Tracey.
Email ouch@bbc.co.uk tweet @bbcouch or find us on Facebook. Tell us what you think, and tell us your story.
Subscribe to Ouch as a weekly podcast. You can also subscribe and review us on Apple Podcasts on your device, and other podcast services.