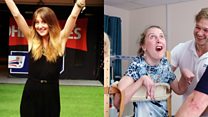 Video
Amy May Shead was left with brain damage following a severe allergic reaction
TV producer Amy May Shead was left with brain damage following a severe allergic reaction to a meal containing nuts, despite warning the restaurant of her allergy.
Amy was on holiday in Budapest in 2014. She was assured by the restraurant there would be no problem with the food they would serve.
Julie Martin, Amy's Auntie, told 5 live Breakfast: "Amy was always incredibly conscious of her allergy and took it extraordinarily seriously, she never ever took a risk."
"She took one taste and had a severe allergic reaction and she went immediately into anaphylactic shock. The intenisty of that was so strong it caused a cardiac arrest."
Amy now lives in a specialist care facility funded by a trust set up in her name.
This clip is originally from 5 live Breakfast on Wedneday 23 August 2017.