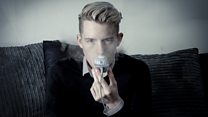 Video
Why I avoid others with cystic fibrosis
Vlogger Charles Michael Duke, 22, posts comedy songs and videos about life with cystic fibrosis on YouTube.
People with CF shouldn't meet face to face due to fear of cross-contamination. So they hang out online, where Charles feeds the community with his niche CF references such as having fingers like ET and potent flatulence caused by a low-functioning pancreas.
The Southampton-based actor has been waiting two and a half years for a double lung transplant and is working hard to stay well enough for the operation.
Interview by Emma Tracey
Subscribe to Ouch, share it on social media and be sure to review it on Apple Podcasts or wherever you get your podcasts from, so that others who are interested in disability and mental health can find us more easily.