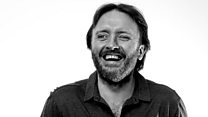 Video
Have you heard the one about....?
Chris McCausland is a stand-up comedian from Liverpool and about to take on Live at the Apollo.
Some of you might know him from his acting stint on the BBC1 drama series "Moving On" or from the CBeebies show "Me Too" where he plays Rudy, the market trader.
Chris is also blind and he joined Ouch's Lucy Edwards to have a chat about comedy, his sight loss and his upcoming TV appearance. Live at the Apollo is broadcast on 4 January 2018 on BBC2. A full transcript is available here.
Picture and performance audio: Courtesy of Chris McCausland.
If you have an idea for a future programme, email ouch@bbc.co.uk. Subscribe to Ouch as a weekly podcast and, if you wouldn't mind, we'd be delighted if you reviewed us on Apple Podcasts or wherever you get your podcasts from - it helps other people find us.