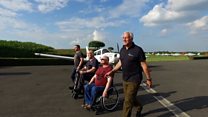 Video
The UK's first disabled air display team gets ready for takeoff
Great Britain's first disabled air display team will soon be ready to perform in its first show.
One of the crew told BBC Ouch he had been a wheelchair user for 20 years, and learning to fly had been "like the light coming on again".
The four-person crew has been assembled in honour of the World War Two flying ace Sir Douglas Bader.
Video by Daniel Gordon and Tom Beal.
For more Disability News, follow BBC Ouch on Twitter and Facebook, and subscribe to the weekly podcast.
Go to next video: RAF 100: Queen watches impressive display