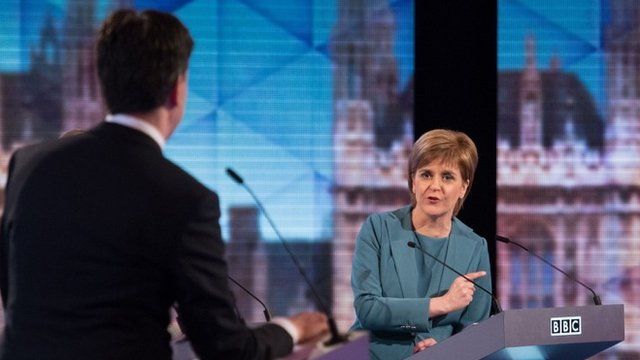 Video
Election debate: Miliband and Sturgeon in debate clash
Ed Miliband has sought to distance himself from the SNP during a heated exchange at the BBC's leaders' debate.
The Labour leader said there were "profound differences" between their parties, such as Nicola Sturgeon's desire for an independent Scotland, which meant he would not enter into a coalition with the SNP.
Ms Sturgeon repeated her claim that her party could "help Labour be bolder" and urged Mr Miliband not to "turn his back" on that offer and "let David Cameron back into Downing Street."
The leaders of Labour, the SNP, Plaid Cymru, UKIP and Greens took part in the BBC-hosted event.
UK viewers can watch the debate in full on the BBC iPlayer
Go to next video: Farage: Labour spending cuts 'peanuts'