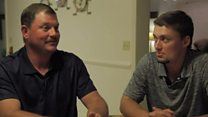 Video
Manufacturing families face harsh reality in Virginia
The idea that the next generation will be better off than the one before has always been a powerful part of the American Dream.
But progress has stalled, according to a new survey by the Pew Research Center, which found a majority of Americans think the future will actually be worse. It's a pessimistic sentiment that Donald Trump has been tapping into.
This week we're going to hear from three families with very different backgrounds and experiences. How have their expectations changed and do they still think their kids will be better off than them? We start with a conversation between Scott Wilson and his son who live in Galax, in southern Virginia.
Video by Olivia Lace-Evans
Go to next video: How Trump might hurt Congressional Republicans