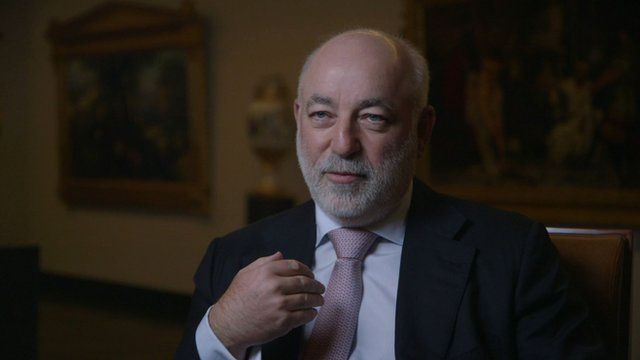 Video
Viktor Vekselberg on why he buys imperial Faberge eggs
In the annals of human folly, it is doubtful if blood and cash have ever been splashed over anything quite so fabulous and frivolous as Faberge eggs.
The jeweller and entrepreneur Carl Faberge fashioned his eponymous eggs from gems and precious metals in his St Petersburg workshop a century or so ago. The first one was presented by Tsar Alexander III to his wife, the Empress Maria Fedorovna, at Easter in 1885, an annual tradition which his son Nicholas II also followed with eggs for his mother and wife each Easter Sunday.
Of the approximately 50 eggs made for the imperial family between 1885 and 1916, 42 have survived.
Nine of them are owned by Viktor Vekselberg, an oil and gas tycoon, who, with a fortune estimated at $18bn, is often described as Russia's richest man.
Here Mr Vekselberg, explains to Newsnight's Stephen Smith why in 2004 he paid over $100m to purchase the nine eggs - a collection second only in size to the 10 held by the Kremlin Armoury Museum.
Watch Stephen Smith's full documentary The World's Most Beautiful Eggs on BBC Four on Tuesday 25 June 2013 at 9pm, then afterwards on the BBC iPlayer.
Go to next video: The ultimate bling - imperial Faberge eggs