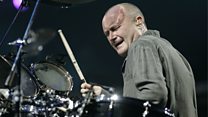 Video
Why Phil Collins is returning from 'miserable' retirement
British singer Phil Collins has said he is coming out of retirement and is even planning to tour.
Telegraph music critic Neil McCormick, who recently interviewed Collins, told the Today programme that his retirement "sounded pretty dull" and that the world would welcome back the Genesis drummer and solo artist.
Collins announced in 2011 that he was no longer able to play the drums because of health problems "so it'll be Phil without a fill" McCormick told presenter Mishal Husain.
"He says he can sing. I think music is for life, and if you can sing and you can do it, then it's a wonderful decision."