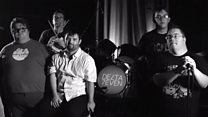 Video
Band with disabilities win film prize
A mini-documentary about the rock band Delta Seven will be played in Picturehouse Cinemas around the UK after winning a short film competition.
We Rise tells the story of seven musicians with learning disabilities, who formed a group to express themselves and challenge stereotypes.
It was selected from more than 400 entries by a jury including Amy director Asif Kapadia; Bond producer Barbara Broccoli; and Gurinder Chadha, the director of Bend It Like Beckham.
The two-minute film, created by Rosie Baldwin and produced by McCann London, will be played before the main feature at Picturehouse venues across the UK throughout the year.
Nafisa Sayani reports.