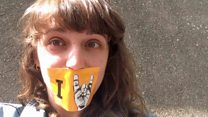 Video
The Big Moon play 11 gigs in four days at SXSW
Rock band The Big Moon have just returned from the South By Southwest music festival in Austin, Texas.
The quartet played 11 gigs in four days at the festival, which showcases up-and-coming bands to fans and record industry types alike.
Throughout the festival, the band kept a video diary of their shows (and backstage antics) exclusively for BBC news.
Get to know them now - before everyone else catches on.
Footage shot by The Big Moon. Edited by Mark Savage.