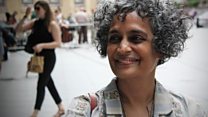 Video
Arundhati Roy: The Ministry of Utmost Happiness
The Ministry Of Utmost Happiness is Arundhati Roy's first novel since her celebrated debut The God of Small Things, which won the Booker Prize in 1997.
Roy's new novel takes us on a journey from Old Delhi to Kashmir and back. Indira Varma will be reading The Ministry of Utmost Happiness on Book at Bedtime at 2245 BST from Monday 5 June on Radio 4. To find out more about Arundhati Roy's life and work visit the Book at Bedtime pages on the Radio 4 website.
For now though, as a taster you can watch Arundhati reading the opening of her new book for the Today programme.
Go to next video: Arundhati Roy: India's success a 'lie'