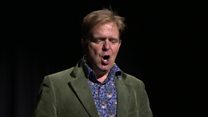 Video
Opera's Nicholas Sales sings Verdi in a Barnsley accent as a new Yorkshire opera opens
Why is there no opera in a Yorkshire accent? Indeed, can you actually sing opera with flat northern vowels? Those are the questions that have led to a new work, The Arsonists, which is about to be premiered in Salford.
The team behind it, Professor Alan Williams of Salford University and poet Ian McMillan, think it's a world first. But does opera in a Yorkshire accent work? We set Nicholas Sales from Heritage Opera a challenge: could he do Verdi's La Donna e Mobile in a Barnsley style? Here's the result (translation by Barnsley poet Ian McMillan)
Go to next video: Opera for babies?