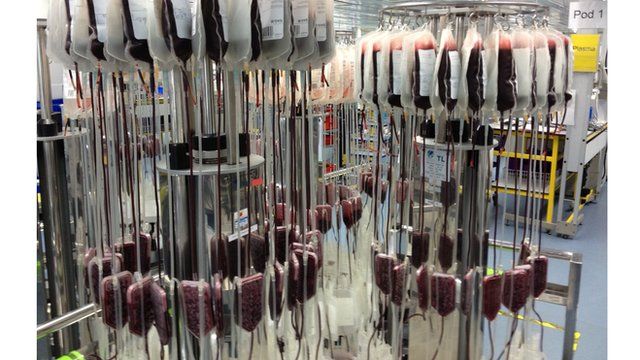 Video
Health Explained: The journey of a unit of blood
Eleven-year-old Lucia Sarsby has beta thalassemia major, a blood disorder which means she is unable to make her own red blood cells. To survive she has had to undergo monthly blood transfusions at the Bristol Royal Infirmary since she was two years old.
She is under no illusions of the importance of the blood donation service.
"I am very thankful to the people who donate, because if I didn't have red blood I wouldn't be here."
The journey those blood donations have to travel to reach Lucia can take between three and 21 days, and could have come from donors across England and North Wales.
Last year, NHS Blood and Transplant collected about two million donations at such public sessions.
The bags of blood are refrigerated overnight and then delivered to processing centres such as the huge hi-tech facility at Filton near Bristol early the next day.
First, the white blood cells are filtered off and discarded.
Each donation is then separated into red cells, plasma and platelets.
Last year, NHS Blood and Transplant sent out 260,000 units of platelets, 388,000 units of frozen plasma, and 1.83 million units of red cells to English and Welsh hospitals.
The hospital Lucia is treated in is part of University Hospitals Bristol NHS Foundation Trust. As one of the UK's largest acute trusts, it's a regular customer, using 29,000 units of red blood cells, 4,300 units of plasma and 6,000 units of platelets every year.