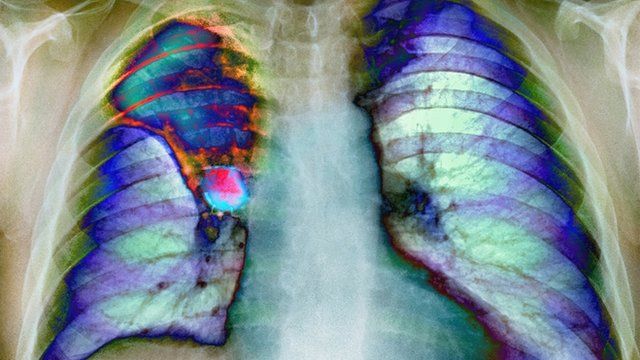 Video
Lung cancer is 'great scientific challenge'
Lung cancer kills more people more quickly than any other form of the disease in this country - 35,000 every year, more than twice the number killed by bowel cancer, and three times as many as breast cancer.
The Lung Cancer Alliance is a new initiative that will bring together some of the country's leading research institutions, teaching hospitals and cancer charities , in an effort to improve treatment for lung cancer patients. Its first objective will be to enrol every lung cancer patient in the country in a clinical trial.
The Today programme's science correspondent, Tom Feilden, reports. The research is based at Hammersmith hospital and run by Michael Seckl from Imperial College, who said: "If I was trying to do this work in a single centre, with access only to small number of cancer patients, it would take me a very long time to do the study.
"So I think this is a wonderful opportunity for us to move the pace forward in what we're achieving for lung cancer patients.
Professor Alan Ashworth added: "Outcomes for lung cancer are still terrible.... We really need to be turning the research community much more onto lung cancer as an unmet need, as a great scientific challenge, and something that we can potentially save many lives by improving."
First broadcast on the Today programme on Friday 26 April.