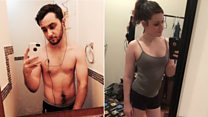 Video
'I'm a transgender woman - ask me your invasive questions'
A transgender woman who offered people the chance to ask "invasive questions" on an internet forum has been overwhelmed by the response.
Gwen, 24, from Pennsylvania, hosted an "ask me anything" (AMA) session on the online community site Reddit.
She received almost 2,000 questions and comments, mostly from "supportive and respectful people".
"I figure very few of you know trans people in your everyday lives and might be afraid to ask questions at the risk of offending someone, so I thought I'd give you all the opportunity to learn from someone who will answer your invasive questions," she said.
One Redditor wrote: "I think you just won over half of Reddit right there."
Another said: "You're very beautiful, and I'm glad you found the happiness that you were searching for. Thanks for sharing with us."
In this video, Gwen responds to some of the questions she was asked.
Video journalist: Hannah Gelbart