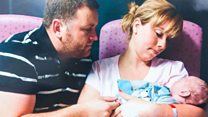 Video
Turning off life support 'hard but right decision'
A High Court judge has ruled that doctors can withdraw life support from a sick baby with a rare genetic condition against his parents' wishes.
Specialists at Great Ormond Street Hospital said eight-month-old Charlie Gard has irreversible brain damage and should be moved to palliative care.
His parents Connie Yates and Chris Gard had wanted to take their son to the US for a treatment trial. But the judge said it was in Charlie's best interest to remove life support.
Niki Cunningham's son Harry was born in 2012. He was starved of oxygen and was left severely brain damaged. She tells Today she had to make the decision to turn her son's life support machine off after just 26 hours.
Go to next video: Charlie Gard case: These aren't easy for anybody