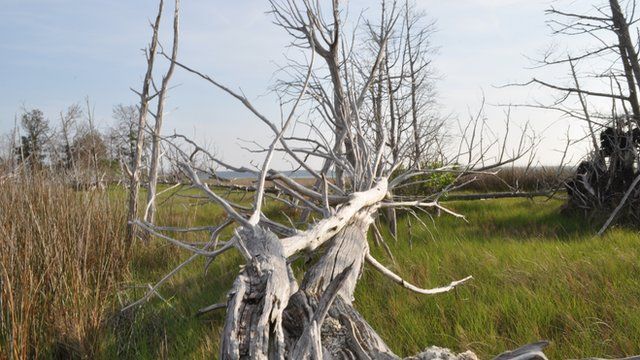 Video
'Ghost trees' victims of rising sea levels
The dead trees loom over the marsh like the bones of a long ago-beached whale.
They also foretell what scientists say is to come on the small islands called hummocks in the salty estuary waters of the York River in the US state of Virginia.
The sea level in the Chesapeake Bay area and in South-Eastern Virginia is predicted to rise up to 5.2ft (1.6m) by the end of the century.
That threatens the entire surrounding ecosystem, because fish, oysters and crabs depend on the marsh grass for food.
"These are just the early warning signs of what's coming," says avian ecologist Bryan Watts. Despite scientists' warnings, the issue of climate change - even the words themselves - are politically dangerous in much of the US, including Virginia.
Mr Watts, the director of the Center for Conservation Biology at The College of William & Mary / Virginia Commonwealth University, gave the BBC a tour of the disappearing "ghost hummocks".
Produced for the BBC by Bill McKenna.
Photos courtesy of Bryan Watts. Historical aerial images courtesy Virginia Institute of Marine Science, Shoreline Studies Program.
Go to next video: New chapter for indie bookstores