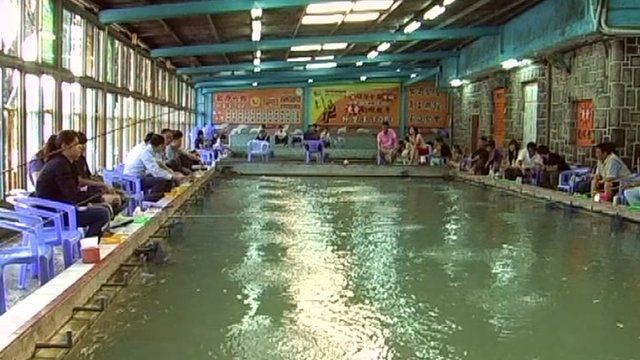 Video
Close up: Urban shrimp fishing in Taiwan
With one of the biggest fishing industries in the world, Taiwan has historically had strong ties to seafood.
But instead of going out to sea on boats, or even sitting on the edge of rivers or piers like their ancestors did, many Taiwanese city dwellers are now fishing for shrimp from indoor pools in restaurants that let them catch their own meal and cook it themselves.
This is far from just a way to grab a bite - it's a popular place for families and friends to gather, or office workers to relax at the end of a long week.
The BBC's Cindy Sui visited one of these places and gave indoor shrimp fishing a try.
The Close-up series focuses on aspects of life in countries and cities around the world. What may seem ordinary and familiar to the people who live there can be surprising to those who don't.
Go to next video: Close-up: Japan's amazing lunchboxes