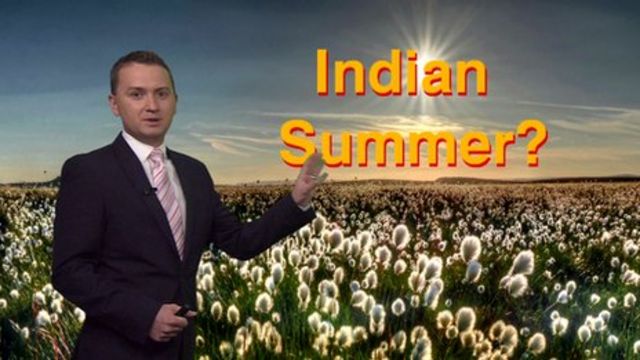 Video
Hints of an Indian Summer
September 2013 started on a cool and rather autumnal note - especially across the north of the UK. However, with conditions becoming more summer-like again during this week, many are wondering if this is an Indian Summer in the making.
Traditionally, an Indian Summer is a spell of above-average temperatures accompanying dry and sunny weather after the end of summer. In fact, it is only a true Indian Summer if a warm spell occurs after one, or a series of sharp frosts, and is associated with late-September to mid-November.
In the UK the original term for a period of unseasonable warmth and sunshine in late September, October or November was described as a Saint Martin's Summer (referring to St Martin's day on 11 November). This term was used throughout much of western Europe.
During the beginning of the 19th Century, the American phrase "Indian Summer" became better known. Although the exact origins of the term are uncertain, it is thought to have been based on the warm and hazy conditions in autumn when native American Indians chose to hunt.
Although this week will bring plenty of fine, dry and settled weather across the UK with temperatures above average for the time of year, it is too early to call it an Indian Summer. Predicting whether or not a true Indian Summer will occur during the autumn is not so straight forward and there is no statistical evidence to show that such a warm spell tends to recur each year.
The most recent Indian Summer of note was in 2011 when a new UK October record high of 29.9C (86F) was set in Gravesend, Kent on 1 October beating the previous record of 29.4C. The highest November temperature was 21.1 °C (70F) which was set back in 1938 on 2 November in Essex and Suffolk.
A hot spell in the autumn can arise when the remnants of old Atlantic Hurricanes brings warmth from the tropics in the direction of the UK. The remnants of the hurricane won't necessarily affect the UK directly, but will introduce higher temperatures.