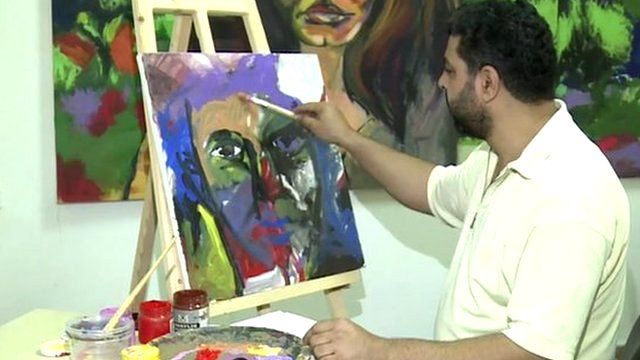 Video
Making art in the Gaza Strip: Mohammed al-Hawajri
The struggling artist is a stereotype that resonates throughout the world, but being a painter or sculptor in the Gaza Strip can be particularly challenging.
Mohammed al-Hawajri struggles to import the materials he needs because of border restrictions imposed by Israel and Egypt.
Mohammed has been asked to participate in international exhibitions but it is so difficult for him to get permission to export his work and leave the Palestinian territory that he is staging his latest show in Gaza City.
BBC News went to meet Mohammed al-Hawajri and find out about his work.
Camera: Mahmoud Ajrami, Stephen Adrain
Editing: Jehad Mashhrawi
Local producer: Hamada Abuqammar.
Real Time is a series for the BBC News website in which ordinary people tell their own extraordinary stories.
Go to next video: Inside an illustrator's imagination