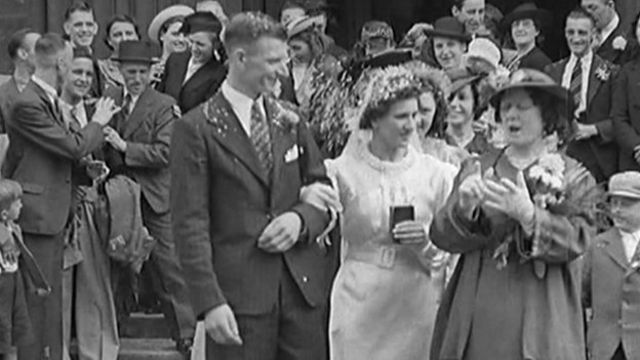 Video
The story of the couple in the 'Deaf and Dumb Wedding' of 1940
When British Pathé transferred its catalogue to YouTube earlier this year, a long-forgotten film of two deaf people getting married in 1940 was revealed. But who were they?
The couple are both smiling as their family and friends from Hull deaf club surround them, fingerspelling rapidly to each other. One guest carries a gas mask as the war had just started. "It's a beautiful snapshot of a moment in time," says See Hear series director William Mager.
The names of the couple were Duncan McKenzie and Nesta Holgate. McKenzie was 34 and came from a family of travelling entertainers - his grandmother, Susannah Mapplebeck was said to be a famous sword swallower.
According to the marriage certificate, Holgate was a 22-year-old spinster and her father was a shipyard worker. Both her and McKenzie were deaf.
Mager says: "See Hear decided to investigate the couple further, and, as we delved into their lives, we found a story of happiness and tragedy in equal measure."
Read the full article here.
Archive footage courtesy of British Pathé.
Follow @BBCOuch on Twitter and on Facebook, and listen to our monthly talk show
Go to next video: Life as a disabled student