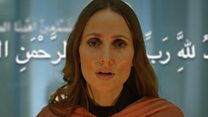 Video
The female imam fighting extremism and Islamophobia
The Mariam Masjid is not your usual mosque... but then again Sherin Khankan is not your usual imam. As part of the BBC's 100 Women season, meet the half-Finnish half-Syrian woman who set up the first women-led mosque in Northern Europe.
Produced by Joe Inwood and Nidale Abou Mrad
What is 100 women?
BBC 100 Women names 100 influential and inspirational women around the world every year. We create documentaries, features and interviews about their lives, giving more space for stories that put women at the centre.
Other stories you might like:
'I married a man to keep my girlfriend'
Fighting for a good death in Malawi
Go to next video: What's it like to be Nepal's 'living goddess'?