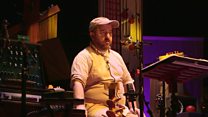 Video
Stephin Merritt: 50 songs for 50 years
American singer-songwriter Stephin Merritt has been called the Cole Porter of our time.
As the frontman for the band the Magnetic Fields, his unique blend of urbane lyrics and rough bass voice has won over fans and critics alike.
His latest project is called 50 Song Memoir, and it started on his 50th birthday. He has written one song for each year of his life.
The BBC caught up with him at MASS MoCA, a contemporary arts centre in Massachusetts, where the band recently premiered the upcoming album.
Produced, filmed & edited by Felicia Barr and Bill McKenna
Go to next video: Telling the story of 1960's 'revolution'