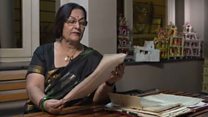 Video
Taking on India's 'Super Cop' after he sexually harassed me
In 1988 Rupan Deol Bajaj was the fifth-highest ranking female civil servant in the state of Punjab, but none of that mattered when she was groped at an official party by the state's top policeman.
KPS Gill, India's so-called Super Cop, was viewed by many as untouchable.
When Bajaj complained about him to her superiors they ignored her, so she decided to take the matter to court.
The case divided the country but after 17 years Gill was finally convicted.
Rupan Deol Bajaj told Witness how the case came about and why she decided she had to pursue it.
Go to next video: The 'milk miracle' that brought India to a standstill