Media player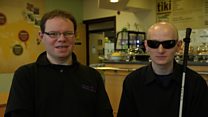 Media playback is unsupported on your device
Video
The cafe where the food is made by a blind cook and his autistic helper
David Black is a professional cook - he's also blind. His solution to health and safety issues is a kitchen assistant.
Peter Wilson, who's got autism, steers David around the kitchen and helps him avoid injuring or scalding himself.
The duo prepare starters and mains for 10 to 15 people, twice a week at a cafe in Scotland.
Video by Daniel Gordon and Emma Tracey
For more on this story listen to The Food Chain on BBC World Service radio Saturday 18 February 2017.