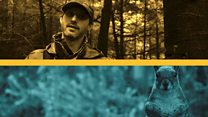 Video
People call me racist for shooting grey squirrels
Since the 1950s, the number of native British red squirrels has fallen from around 3.5 million to an estimated 140,000.
This is due to competition and disease from grey squirrels, which were imported into the UK from North America in the 19th century.
Andrew Hodgkinson and Julie Bailey are among several red squirrel enthusiasts in the UK who shoot grey squirrels in an attempt to protect the native species. The approach is controversial and has led to accusations of racism and xenophobia.
However, supporters say they are promoting sustainability. Culled grey squirrels are sometimes used for clothing - and even stews and curries.
Produced and filmed by Aaron Akinyemi and Rob Brown
Go to next video: Rare white squirrel spotted at farm