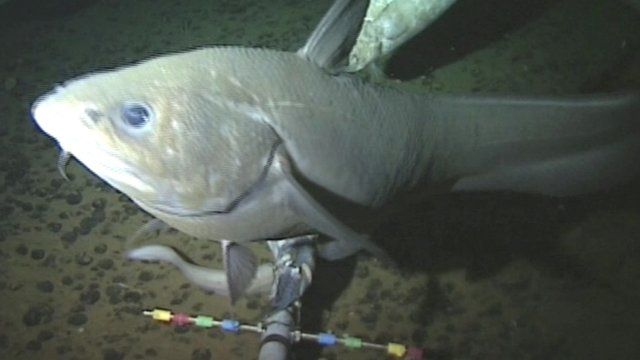 Video
Fish discovered at new record depth of 8km in Pacific
A new record has been set for the world's deepest fish.
The bizarre-looking snailfish, which is new to science, was filmed 8,145m beneath the waves, beating the previous depth record by nearly 500m.
It can be seen 1 minute and 45 seconds into this video, among swarms of smaller, shrimp-like amphipods.
The footage, captured by an international expedition, shows several scenes at increasing depths in the Mariana Trench, almost 11km deep in the Pacific Ocean.
Also caught on camera are a scavenging rat-tail (00:00), a large cusk eel (00:43) and huge crustaceans called "supergiants" (00:51).
Go to next video: Explaining deep sea vents