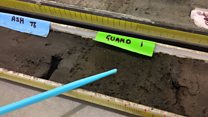 Video
Penguins battle back against volcano
The perilous history of a penguin colony on a small Antarctic island has been recorded in their excrement.
For thousands of years, the birds have nested on the Ardley outcrop where their poop, or guano, would collect at the bottom of a lake.
But when scientists drilled into these sediments, they got quite a surprise. Interspersed with the layers of penguin waste were thick sections of volcanic ash, indicating the Ardley birds were frequently decimated by eruptions.
Dr Stephen Roberts from the British Antarctic Survey spoke with our science correspondent Jonathan Amos.
Go to next video: Gentoo penguins find warm success