Media player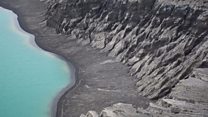 Media playback is unsupported on your device
Video
Volcanic island 'template' to study Mars
A newly emerged volcanic island will help trace the Red Planet's water history and the search for life.
The tongue-twisting volcanic island of Hunga Tonga Hunga Ha'apai exploded out of the Pacific Ocean in 2015, and its shape has been evolving ever since as it has been lashed and bashed by waves.
Scientists are watching this slow erosion very closely.
Dr Jim Garvin, chief scientist at the US space agency's (Nasa) Goddard Space Flight Center, spoke with our correspondent Jonathan Amos.