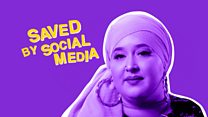 Video
The woman helping domestic abuse victims with Instagram
Natasha Toffa uses Instagram to help women around the world who are stuck in abusive relationships.
Strangers in vulnerable situations contact the 27-year-old Australian blogger around the clock.
She regularly receives messages such as: "He struck me hard across my face and back. I can feel the burns from his rings."
For the first time Natasha's gone on a self-funded trip to America to meet the women she's been helping, BBC Minute follows her journey.
Producer: Olivia Le Poidevin and Patrick Clahane
Editor: Patrick Clahane
Camera: Timothy Myers
Graphic designer: Alice Grenié
Go to next video: 'He'd shoot me if he found me with another man'