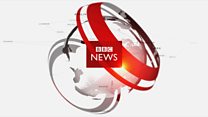 Video
From sleeping on the bus to having my own home
Statistics released by Shelter in November suggest that 320,000 people are currently homeless in Britain, and this number is increasing.
Many find themselves in a vicious cycle of homelessness that leaves them unable to secure a job or a home.
We've followed the journey of Emmanuel, a driven and ambitious young man who managed to break this cycle through a scheme that helps volunteer workers save a deposit to rent their own home.
Produced, filmed and edited by Tom Beal and Lily Freeston
If you have been affected by any of the issues in this film, there is help available. If you have been affected by any of the issues in this film, there is help available. You can contact the Samaritans on 116 123 in the UK. And there is list of organisations that may be able to help at bbc.co.uk/actionline