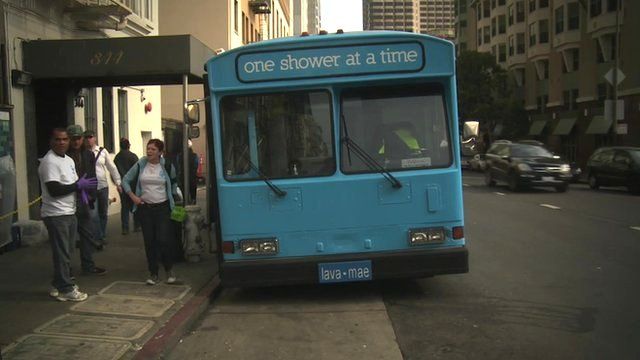 Video
Mobile showers for San Francisco's homeless
'Lava Mae' is a groundbreaking initiative in San Francisco offering the city's homeless population mobile showers and toilets in a converted bus.
It is the brainchild of Doenice Sandoval, who was awarded $100,000 in funding as a finalist in Google's 'Global Impact Challenge'.
Ms Sandoval, a marketing executive, says she wants to ensure the city's homeless population of more than 7,000 gain access to basic necessities in a safe and welcoming environment.
She was inspired to action when she saw a young woman on the street, crying that she would never be clean.
The Lava Mae founder says she hopes to have four buses running within a year - and has received global interest from other communities around the world who are interested in replicating her idea.
The scheme comes at a time of heightened tension in the city, fuelled by the tech boom which led to charges of gentrification amid exponential rent rises over the past two years.
Big Silicon Valley companies like Google, Facebook and Twitter, many of whose workers commute to work from San Francisco, have been accused of not doing enough to contribute socially and aggravating the homeless problem.
Ms Sandoval's bus has been operating since the summer and now runs four days a week in two of the worst affected areas, the Mission district as well as the downtown 'Tenderloin' area - where she spoke to the BBC's North America technology correspondent Richard Taylor.
You can follow Richard on Twitter @RichTaylorBBC.
Go to next video: San Francisco's tech boom tension