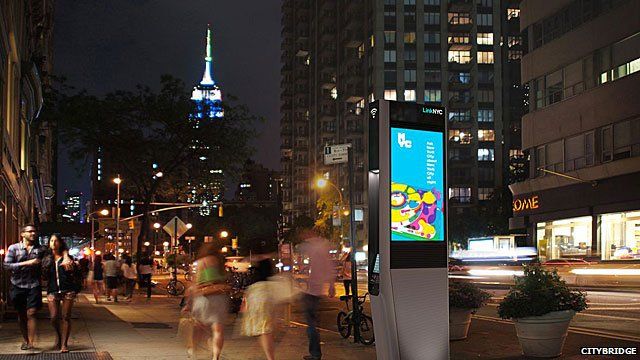 Video
New York offers free gigabit wi-fi
New York is set to introduce free gigabit speed wi-fi across the city. A public-private consortium, CityBridge, together with the city authorities, will begin construction of the LinkNYC kiosks in 2015 with the first structures running by the end of that year.
The city estimates that the new wi-fi capability, funded by advertising on the kiosks, will generate at least $500m (£319m) in revenue over the next 12 years.
The Link kiosks will allow users to charge their phone, download content from the internet and even make a free phone call to anywhere in the US.
Other services will include a touchscreen tablet interface to access city services, interactive maps and displays for advertising and public service announcements.
New York is planning to install up to 10,000 Links across the five boroughs - and the city authorities say they will help address the digital divide offering connectivity to everyone.
The LinkNYC network will be more than 100 times faster than average municipal wi-fi and 20 times faster than the average home internet service in NYC.
The authorities say it is about future-proofing the Big Apple - creating a gigabit network even before our smartphones and tablets can handle the speeds.
BBC Click's Neil Bowdler went to find out more.
More at BBC.com/Click and @BBCClick
Go to next video: The lift that goes sideways