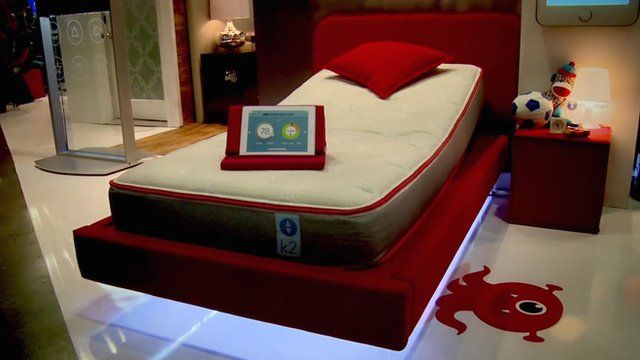 Video
Can a 'smart' bed help your child sleep better?
The technology world's current obsession with activity tracking is not confined simply to daytime - it is also increasingly becoming part of our nocturnal routine too.
While most of the innovation has centred around wrist-worn fitness devices in bed, there are now attempts to incorporate them more directly into our beds themselves.
Standalone devices like the $149 (approximately £100) Beddit consist of a length of sensor-laden tape under the mattress which then communicates results via Bluetooth to your smartphone.
And bed makers themselves believe there is a new revenue stream to be made from making beds ultra-connected.
The BBC's North America Technology Correspondent Richard Taylor lay down with Russ Dawson from American bedmaker Sleep Number - whose latest product claims to monitor the sleep patterns of children through its app-connected bed.
Go to next video: Lamp changes colour to aid sleep