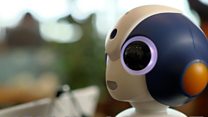 Video
Japan embraces robots ahead of 2020 Olympics
BBC Click's Spencer Kelly meets a robot getting ready to help visitors to the 2020 Tokyo Olympics with language translation.
Japan is embracing the use of robots across a wide range of industries. The country has an ageing population and is increasingly looking for robots to replace people in the workforce.
Fumiyuki Hashimoto of Fujitsu says Japanese people see robots and artificial intelligence as one. Robots are perceived as something that can protect and support humans.
Japan now holds more patents in artificial intelligence than any other country in the world.
More at BBC.com/Click and @BBCClick.
Go to next video: The chain-smoking robot