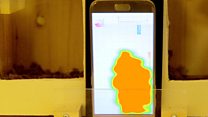 Video
Radar sensor for the home which can 'see' through walls
A large radar imaging system, previously used in breast cancer detection, has been shrunk and turned into technology which can be used in the home.
The company behind the product, Vayyar, is pitching the technology as a single sensor for the smart home.
It can detect very subtle movements and the direction they are coming from.
The technology could be used as an alert system if a person falls over and is unable to get up or they stop breathing.
The sensor has also been fitted into a phone attachment which allows the user to "see" what is behind walls and could prevent accidental drilling through pipes and cables.
BBC Click's Spencer Kelly reports.
Go to next video: Wi-fi can identify people through walls