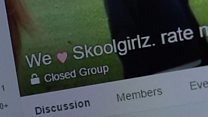 Video
Is Facebook failing to remove obscene content from its pages
A BBC Investigation reported 100 images that appeared to breach Facebook's own rules on nudity and obscenity using the company's reporting system.
Eighty-two stayed up because they "didn't breach community standards".
Facebook gave us the following statement:
"We have carefully reviewed the content referred to us and have now removed all items that were illegal or against our standards. This content is no longer on our platform. We take this matter extremely seriously and we continue to improve our reporting and take-down measures. Facebook has been recognized as one of the best platforms on the internet for child safety.
"It is against the law for anyone to distribute images of child exploitation. When the BBC sent us such images we followed our industry's standard practice and reported them to CEOP. We also reported the child exploitation images that had been shared on our own platform. This matter is now in the hands of the authorities."
Go to next video: Paedophiles use Facebook to swap images