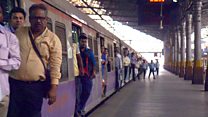 Video
How free wi-fi is transforming India's rail stations
India's railways move millions of people around the country every day. And now thanks to optic fibre the are moving data too.
Some 45,000km (28,000 miles) of cable run alongside India's rail tracks taking high speed free wi-fi to some 115 stations on the network in a scheme made possible by Google.
Wi-fi is transforming the railway stations turning them into digital as well as railway hubs and giving businesses a boost too.
BBC Click's David Reid went to Jaipur station to find out more.
You can see Click: India's internet on rails over the weekend of 26 and 27 August 2017 on BBC World News and the BBC News Channel and after on BBCiPlayer (UK only)
This programme was first transmitted in March 2017.
Go to next video: Team Indus: India's race to the moon